/products/tpk-sticker-d-d-vinyl-sticker-for-dungeons-and-dragons-dungeon-master-waterproof-uv-proof-14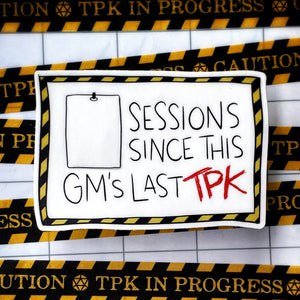 Storymakers Trading Co
TPK sticker - D&D vinyl sticker for Dungeons and Dragons, dungeon master, - waterproof, UV-proof
Regular price
$1.13
Sale price
$3.00
Unit price
per
An excellent gift for any DM, particularly if a TPK has recently figured into your party's story. Part of the Dungeon Safety collection of stickers, pins, and washi tape. Also available with a blank spaces instead of the zero.

You can add numbers with a wet or dry erase marker if you aren't using it in a place that needs to be waterproof. If you are, you can use a sharpie type marker and remove the numbers with a melamine sponge (like a Magic Eraser). This may degrade your sticker over many uses.

Sticker measures 3" wide. Professionally printed, waterproof and UV-proof, perfect for your car window, waterbottle, laptop, campaign journal, DM screen, etc.
---